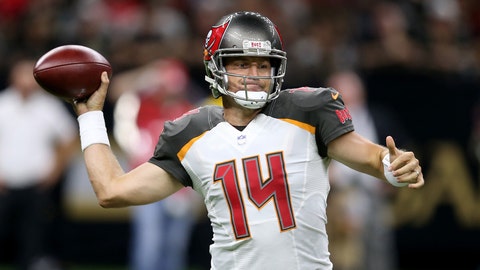 Mike Evans just made quite bit of cash, and in doing so almost became the highest paid player at his position.
Previously, the biggest contract given to a receiver was earlier this year when the Houston Texans agreed to a long-term deal with DeAndre Hopkins for five years, $81 million and $49 million guaranteed.
Evans acknowledged the extension, which runs through 2023, in an Instagram post, noting he will be "spending the next several seasons in Tampa Bay" with a singular focus on helping the Bucs win a Super Bowl. "I want to thank the Bucs, from the owners to the front office, for believing in me and allowing me to take care of my family". The deal includes rolling guarantees early in the contract and a $1.5 million bonus in the final year of the deal, according to CBS Sports. He has four straight 1,000-yard seasons through 4 professional seasons.
Fitzpatrick also started all 16 games for Buffalo in back-to-back seasons (2011-12), one of seven teams he has played for in his 13-year career.
Fitzpatrick, 35, was brought in by Tampa Bay to be the backup to Jameis Winston and to provide some mentorship for the 24-year-old starting quarterback.
After putting up gaudy stats of 96 catches for 1,321 yards and 12 touchdowns in the the 2016 season, Evans cooled off considerably in 2017, his fourth season in the league, catching 71 balls for 1,001 yards and five touchdowns.