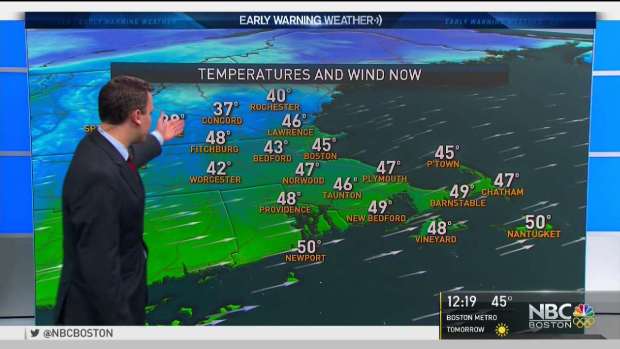 Many parts will be dry, but again a few drizzle patches will occur, especially along Atlantic coasts. The cold air plunging into the center of the country is bringing colder than normal temperatures. Low around 35. South southwest wind 7 to 14 miles per hour, with gusts as high as 25 miles per hour. West southwest wind 7 to 10 miles per hour. Stay updated with the Sky Alert Weather Team for the latest details regarding the weather.
Tonight partly cloudy with lows in the low 30s. Even though we won't see much sun, the afternoon will be a touch milder than recent days. But drier, cooler, clearer weather will develop over Ulster and north Connacht by dawn, dropping temperatures there to lows of 5 to 7 degrees.
THURSDAY: Partly cloudy skies and cool temperatures will be around for Thursday, with a high of 53 degrees for our first official day of winter. Most of us will not make it out of the 40s for Thursday but we will only have a 10% chance of rain.
FRIDAY: Increasing clouds with a chance of rain late.
Of course we will fine-tune as it gets closer!
SATURDAY NIGHT: A wintry mix of rain and snow will be possible, with a low temperature of 29 degrees. This weekend will feature the chance of rain showers Saturday and a rain/snow mix Sunday.
There is a serious boundary between warm air in New England, and much colder air across NY in Ontario by Saturday night. Although the placement of the cold front still could change and that means significant changes are still possible with the forecast through Christmas.
Sandwiched between an Atlantic high pressure system and a continental low pressure system, the Cape Fear Region will likely experience at or above average temperatures and one or more slugs of rain in the days leading to Christmas. However, there is also still a chance that the cold air arrives quicker and delivers some light snow for Christmas Day.