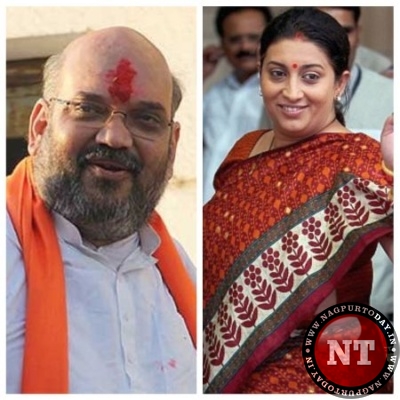 Given the trouble in Gujarat Congress, symbolised by the resignation by leader of opposition Shankar Singh Vaghela and cross voting by Congress MLAs during the recent presidential election, the BJP is hopeful that it can also win the third seat, now held by Patel.
BJP President Amit Shah and Union Minister Smriti Irani will contest Rajya Sabha polls from Gujarat, BJP leader JP Nadda said on Wednesday. Amit Shah who is an MLA from Gujarat until now will be taken into Modi's Cabinet.
Speaking to the media after the parliamentary meet, Nadda said that the BJP president would be contesting for the polls. Union Minister Smriti Irani, now a Rajya Sabha member from Gujarat, has been re-nominated for the other seat. The functioning of BJP-NDA in Rajya Sabha has been handled by finance minister Arun Jaitley, but the presence of Shah would also give him an opportunity to contribute in the alliance. "Elections are going to be held on August 8".
While Shah and Irani were nominated by the central leadership a few days back, Rajput, who was Congress' chief whip in the Assembly, was declared the BJP's third candidate shortly after he quit both from the House and the party. 121 MLAs belong to BJP whereas 57 are from Congress.
Shah has become even more active as BJP chief after the party's impressive performance in the Uttar Pradesh elections.
The terms of nine Rajya Sabha members from Gujarat and West Bengal would end on August 18. The seat fall vacant due to demise of Union Minister Anil Madhav Dave.